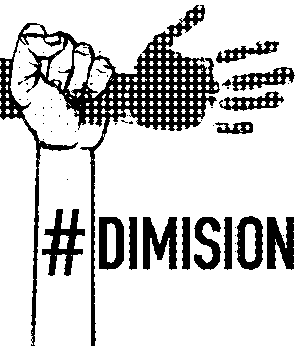 Let us not forget el manotazo.
One year ago today, seventeen Cuban artistic community members suffered a physical attack led by minister of culture Alpidio Alonso and vice minister Fernando León Jacomino. We went to the Ministry of Culture for a meeting with officials because one of the members of our group had a meeting with them, in keeping the demands that were made on November 27, 2020. We also sought to register our concern that state security agents did not allow Tania Bruguera to join us (because she was detained by political police on her way to the meeting). While we waited outside the ministry, we read poems by José Marti in honor of his birthday and our comrades, and also as a way to denounce abuse and repression. Instead of engaging in a rational dialogue, the ministry officials charged toward our group aggressively, knocking journalist Mauricio Mendoza's phone out of his hand and shoving others forcefully. Our group was forced onto a bus by dozens of security agents while a pro-government mob jeered from the grounds of the Federation of Cuban Women across the street. Several women among us were manhandled on the bus. Screams can be heard on the recordings that were made during that bus ride. The group members were held for hours at a police station and subject to harsh interrogations and threats before being released.
Cuban government representatives are supposed to be held to high standards of conduct and should be able to engage in reasonable discussions without resorting to violence; but that was not how Alpidio Alonso and other cultural functionaries behaved. 27N has been petitioning the government to demand Alonso's removal throughout the entire year, to no avail.
#RESIGN NOW!
27N maintains that Alpidio Alonso should resign or be removed from his post for his act of aggression.